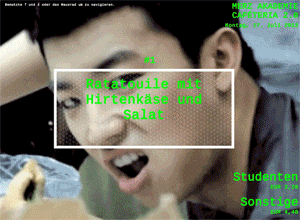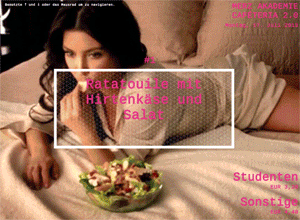 merz akademie has it's own little cafeteria where everyday two warm meals are offered besides getting tea, coffee, other beverages and/or snacks. for the merz people it is possible to check online everyday what current meal offers exist and to already decide beforehand what to eat or maybe - in case nothings sounds appealing - to go for a meal somewhere else. this website including the backend part is visually not appealing and improvable on the functions. so within the php course in the summer term twentythirteen my uni mates greta fest, dominik schuler, tugba kartal and i developed a new approach.

we decided to go for an oldschool trash-like aesthetic and used food related gifs as fullscreen background and a typewriter font to help with it. to make the visit on this site more fun and as we like to develop things which perfom in a random pattern, the background gifs and the font color will change randomly with every refresh of the page from a set of arrays. we implemented a mousewheel and arrow key flipping navigiation where only one meal per canvas is shown to enjoy the variety of the fullscreen background gifs more.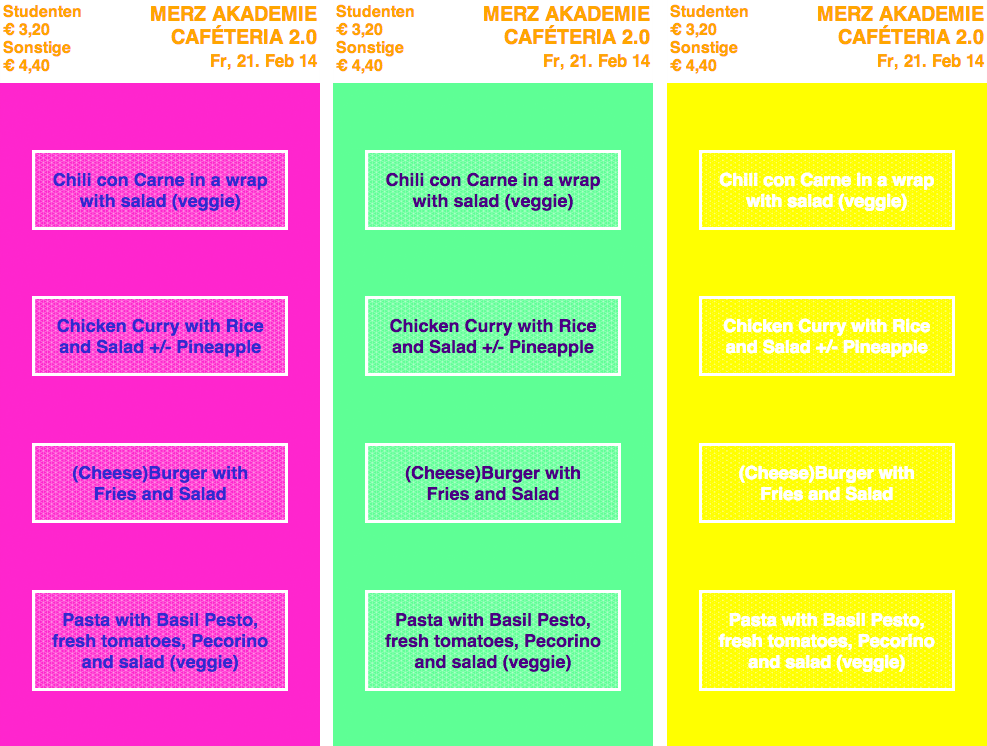 of course as students and faculty members you often are on the run so it was also important to build and adjust a mobile version. because of the specific does and dont's gifs weren't possible. so simplified everything to 'just' random colors. but this time both for font and background which means that it is possible that the colors will not compliment each other and one will not be able to actually read the meals. color fun to go.

the entire backend was completely php based with every essential function or detail e.g automatic date, browser - mobile php detection, login - logout and random function.